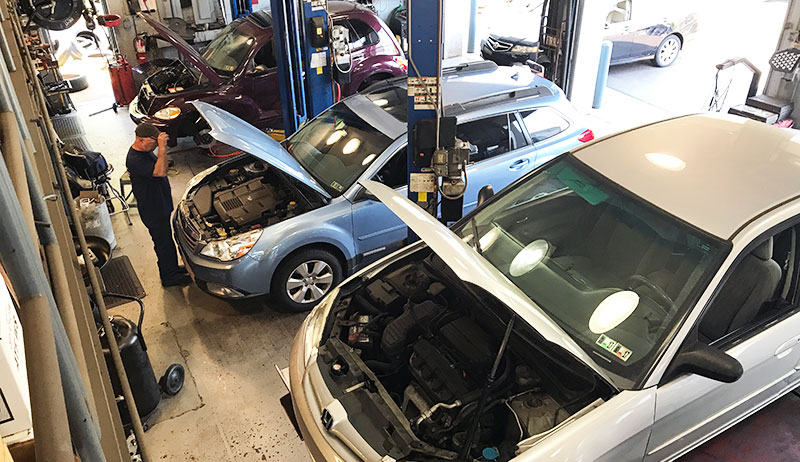 Thank you for considering our company for your auto repairs and service. We know you have many choices today and appreciate the opportunity to tell you about our company.
Expert Auto Repairs
At Upper Gwynedd Service Center, we have assembled a very strong technical team. Our service advisors know auto repair. Our technicians have the experience, skill and training that allow us to be your full service US Domestic and European carand light duty truck repair company.
Here are some of the services we offer:
Inspections
Oil Changes
Computer diagnosis
Alignments
Check engine and repair light trouble codes diagnosis
Electrical diagnosis and repair
Engine diagnosis, repairs, overhauls and replacements
Timing belt replacements
Air conditioning repairs
Brakes and ABS system repairs
Suspension repairs
Muffler and Exhaust
Emissions repairs
Batteries
Tires & Wheel Service
Transmission service, repairs and replacements
CV joints and boots
Fuel Injectors
Computer systems
Clutch replacement and adjustments
Belts, pulleys, tensioners replacement
Hose replacement
Aftermarket Warranties
Fleet Vehicles
Free Local Shuttle
and so much more.
Hours of Operation
Mon - Fri: 6:00am - 8:00pm
7:30am - 5:30pm ( Shop )
Sat: 6:00am - 7:00pm
7:30am - 4:00pm ( Shop )
Sun: 8:00am-2:00pm
(Pickup & Drop-Off Only)
Loaner cars available &
free wifi while you wait
Nationwide Warranty

The Service you Deserve, the Warranty you Expect!
We know that you want service you can rely on. That's why we back our auto repairs with a comprehensive, nationwide parts and labor warranty. When you have your vehicle repaired at one of our Certified Service Centers, your repairs are guaranteed by the Confidence Plus North American Warranty. The Confidence Plus Repair Network provides you with the service you deserve and demand. We strive to instill trust and confidence in the minds of every customer who walks into one of our Certified Service Centers. That is why Confidence Plus protects the following components of your vehicle*:
Air Conditioning, Heading and Climate Control Systems
Engine Cooling Systems
Engine Performance, Driveability, Service and Repair
Emission Controls
Fuel System
Brake Systems
Starting & Charging Systems
Electrical Systems
Exhaust System
Ignition System
Confidence Plus covers most of the service work that you will have performed on your vehicle. As one of our valued customers, it is our goal to provide you with the highest level of service and confidence and that you receive the best automotive repairs in the industry.
Call or come in today and find out how we've become Lansdale, PA's most trusted auto repair companies.